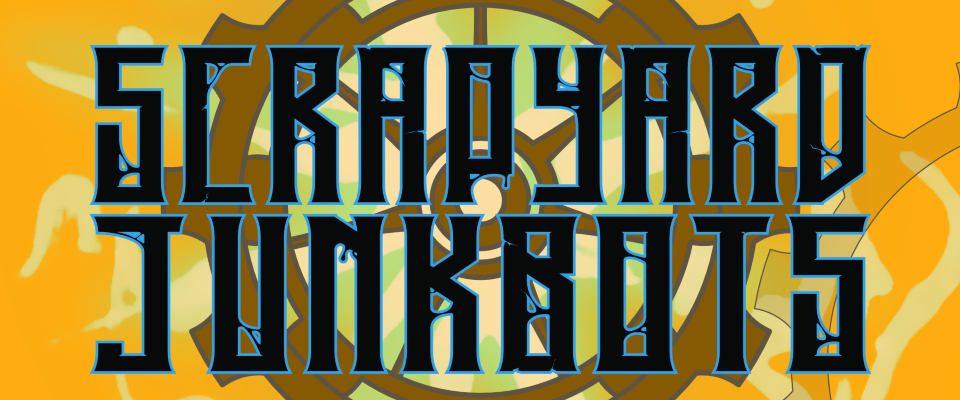 Scrapyard Junkbots
YOU ARE A ROBOT
WELCOME TO THE ARCANE APOCALYPSE
The world is a harsh and dangerous place for a rag-tag group of self-made bots. When your home's energy core begins to deteriorate, it is up to you to seek out the lost arcano-tech to fix it. When news reaches you of a coven of eldritch machines approaching from the East, it is up to you to learn whether they might be trusted to join you, or whether their intentions are to turn your home back into scrap metal. And when the hordes of the Singularity blot out the sun, it's up to you to save your little robot family from annihilation.
Scrapyard Junkbots is a fast-paced, high-action roleplaying game illuminated by the LUMEN system by Spencer Campbell of Gila RPGs. In it, you play junky, scrappy, yet incredibly powerful robots fighting to save your home.
QUICKSTART
The quickstart can be downloaded for free, and includes everything you need to run a basic game, including:
Basic Rules
3 Character Models with Quickstart Character Sheets (Mechanic, Tank, and Ghost)
5 Enemy Statblocks
THE FULL GAME INCLUDES
Full Rules
7 Character Models with Unique Power and Abilities (Mechanic, Tank, Ghost, Necromech, Crowbot, Eldritch Machine, and Swarmcrafter)
9 Weapon Upgrades
17 Enemy Statblocks
Robot Identity Mechanics
Blank Character Sheet
7 Quickstart Character Sheets, 1 for each Model
Purchase
In order to download this game you must purchase it at or above the minimum price of $10 USD. You will get access to the following files:
Scrapyard Junkbots (Pages).pdf
1 MB
Scrapyard Junkbots (Spreads).pdf
1,023 kB
Character Sheets.zip
640 kB
Community Copies
Support this game at or above a special price point to receive something exclusive.
Community Copies
If for any reason you can't spend the money to buy this game but still want to play, grab a community copy on me!

Download demo